Billionaire developer Joe Cayre comes to Denver; shares his inspirational story at recent industry symposium.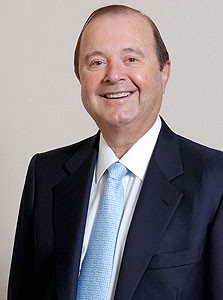 A highly respected industry visionary recently shared his wisdom and experience as the keynote speaker at DMCAR's Colorado Commercial Real Estate Symposium. Entrepreneur and billionaire developer Joe Cayre, founder and chairman of Midtown Equities of New York, spoke candidly as he described the unusual career path that led him to establish one of the most venerable real estate dynasties of our time.
Cayre, who came from very humble beginnings (his first job was in his father's Miami souvenir shop), has made several fortunes over almost 60 years. His first successes were in the music and entertainment business where he built a popular Latin salsa and soul label and then a home entertainment distribution company.
In 2000, Cayre founded Mid-Town Equities to manage and expand his growing real estate portfolio. Today Mid-Town holds more than 100 properties that encompass 14 million square feet of prime retail, office, residential, industrial and hospitality properties. These include Ritz-Carlton hotels, multiplex high-rises and shopping malls in upscale urban and suburban areas in New York, Miami, Chicago and LA, as well as numerous international holdings. Mid-town's most well known, marquis transaction was the joint acquisition of a 99-year lease on the World Trade Center. At $3.2 billion, it was the largest real estate deal in New York City history.
Joe came to the DMCAR Colorado Commercial Real Estate Symposium via his connection to Denver's own Canyon Title. Canyon Title is now part of the Boston National Title family of companies that is majority owned by Cayre. Says Canyon President and CEO Robert Lindley, "We're so pleased we could help make the Cayre appearance happen. He is one of the industry's most authentic icons of success and a true thought leader whose perspective and insights never fail to inspire."